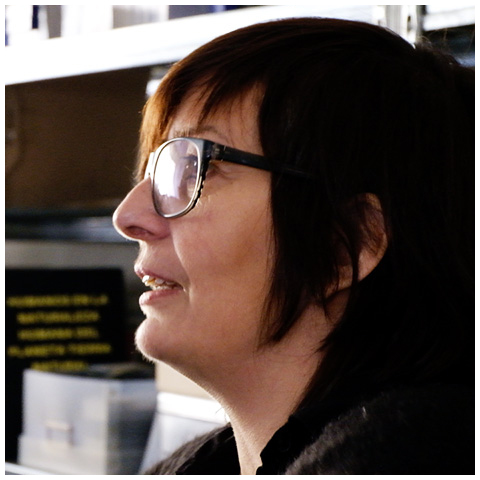 Nace en 1963 en la ciudad de Santiago, desde donde emigra a los 18 años para residir en Zurich, Suiza. Esta experiencia marca su trabajo artístico, curatorial y catedrático, el que a través de una línea de pensamiento poscolonial y decolonial, va a indagar en la experiencia cotidiana de la inmigración, el lenguaje, la memoria, la identidad y dislocación. Su trabajo artístico, desplegado en distintos formatos y medios, especialmente centrados en el video, la fotografía, el sonido y la instalación mix-media, va a exponerse en numerosas exposiciones internacionales y nacionales.
Una característica de su trabajo, es el formato y tratamiento con el video. Mientras reside en Suiza, es invitada a participar con la obra Portrait Oblique en el pabellón Suizo de la 51° Bienal de Venecia (2005). En un formato de entrevista "como práctica estética", el video desarrolla a lo largo de la exhibición, un lenguaje y tiempo subjetivo, que va dando cuenta de los condicionamientos, referencias y mecanismos institucionalizados de exclusión. Desde el 2016 reside en Santiago de Chile.
---
She was born in 1963 in the city of Santiago, from where she emigrated at 18th years old to reside in Zurich, Switzerland. This experience marks her artistic, curatorial and professorial work, which, through a line of postcolonial and decolonial thinking, she will investigate the daily experience of immigration, language, memory, identity and dislocation. Her artistic work, displayed in different formats and media, especially focused on video, photography, sound and mix-media installations, have been exhibited in numerous international and national exhibitions.
A characteristic of his work is the format and treatment with the video. While residing in Switzerland, she is invited to participate with the Portrait Oblique work in the Swiss pavilion of the 51st Venice Biennale (2005). In an interview format "as an aesthetic practice", the video develops throughout the exhibition, a subjective language and time, which gives an account of the conditioning, references and institutionalized mechanisms of exclusion. Since 2016 she lives in Santiago de Chile.