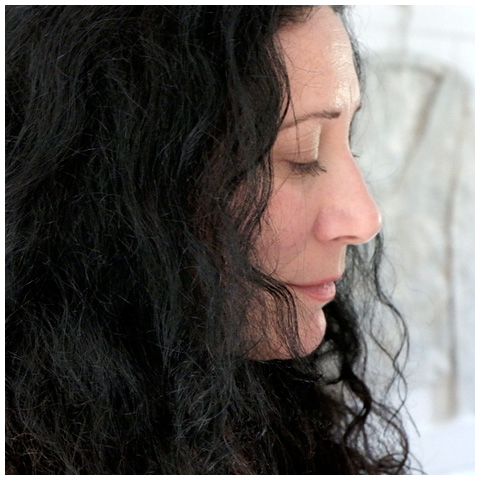 Nace en 1963, en la ciudad de Osorno. Se instala en los ´80 en la ciudad de Santiago, e integra en plena dictadura chilena, la Agrupación de Plásticos Jóvenes (APJ), con quienes realiza diversas acciones e intervenciones callejeras, creación de murales y grafitis. A partir de esta experiencia, su práctica artística se desenvuelve en la reflexión del cuerpo y el ser mujer, en los temas de género, la crítica social y la reflexión existencial, en vínculo a las problemáticas de los D.D.H.H, la memoria, la economía neoliberal, la urbe y lo colectivo.
Desde fines de 1999 hasta el 2013 reside en Alemania, donde continúa su desarrollo artístico en el medio del performance, la instalación y creación de obras, las que incorporan materialidades recicladas o económicas, como telas, harina, periódicos, tierra, piedras, pelo, etc., derivadas de una estética reflexiva y ecológica del mundo cotidiano. En sus últimos trabajos, ha indagado en la memoria arquitectónica y la exclusión en la ciudad de Santiago, interviniendo el espacio o trabajando junto a colectivos comunitarios. En 2017 y 2018, participó con su trabajo Dos preguntas (1986), en la muestra Mujeres Radicales: arte latinoamericano 1960-1985, en Hammer Museum, Los Ángeles, EEUU y Pinacoteca de São Paulo, Brasil.
She was born in 1963, in the city of Osorno. She came in the '80s to Santiago, and integrates during Chilean dictatorship the Agrupación de Plásticos Joven (APJ), with whom she carries out various street actions and interventions, creation of murals and graffiti. From this experience, her artistic practice develops in the reflection of the body and being a woman, in gender issues, social criticism and existential reflection, in relation to the problems of human rights, memory, neoliberal economics, the city and the collective.
From late 1999 to 2013 she lives in Germany, where she continues her artistic development in the middle of performance, installation and creation of works, which incorporate recycled or economic materials, such as fabrics, flour, newspapers, earth, stones, hair, etc., derived from a reflective and ecological aesthetic of the everyday world. In her latest works, she has investigated architectural memory and exclusion in the city of Santiago, intervening in space or working together with community groups. In 2017 and 2018, she participated with her work Two Questions (1986), in the show Women Radicals: Latin American art 1960-1985, in Hammer Museum, Los Angeles, USA and Pinacoteca de São Paulo, Brazil.
---