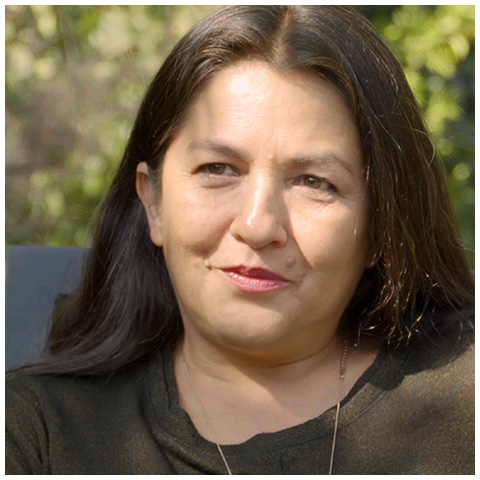 Nace en Santiago en 1966. Se desempeña como artista visual, curadora y gestora cultural. Sus primeros trabajos con materiales extraídos de la cotidianidad, cuestionan lo que está fuera o dentro del arte; de este modo, pelo, clavos, telas o dulces comestibles, serán elementos característicos de sus monumentales instalaciones. Los que darán forma a lo doméstico, como un espacio simbólico de la extrañeza, lo ominoso o desmesurado, en contraste con el recurso económico de lo minimal.
Uno de los proyectos más característicos de los últimos años de Zomosa, se vincula a la creación de delantales gigantes y la reflexión sobre los roles de género, así como las micro/macro economías del trabajo femenino. En el último periodo, han salido del encierro de la galería interviniendo el espacio público y distintas zonas geográficas, en procesiones, eventos artísticos, colectivos y políticos. Entre los años 1999 al 2005, formó junto a Mónica Bengoa, Claudia Missana, Paz Carvajal y Alejandra Munizaga, el colectivo Proyecto de Borde, con quienes cuestionó los bordes de lo (extra) ordinario y el poder del discurso y la palabra en el arte.
---
She was born in Santiago in 1966. She works as a visual artist, curator and cultural manager. Her first works with materials extracted from everyday life, question what is outside or inside art; In this way, hair, nails, fabrics or edible sweets will be characteristic elements of her monumental installations. Those will shape the domestic as a symbolic space of strangeness, the ominous or excessive, in contrast to the economic resource of the minimal.
One of the most characteristic projects of Zomosa's last years is linked to the creation of giant aprons and reflection on gender roles, as well as the micro / macro economies of female labor. In the last period, they have left the enclosure of the gallery intervening public spaces and different geographical areas, in processions, artistic, collective and political events. Between 1999 and 2005, she formed with Mónica Bengoa, Claudia Missana, Paz Carvajal and Alejandra Munizaga, the collective Project "de Borde", where they questioned the edges of the (extra) ordinary and the power of speech and word in art.